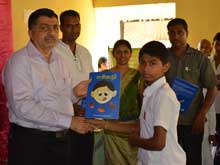 The Children's Upliftment Programme (CUP) together with the "Sudilena Lama Samajaya" organised and conducted its first Child Writer's Project on 20th & 21st July 2013 at the Dandeniya Purana Maha Viharaya in Matara. The Story Book titled 'Pani Kewum', including content, graphics and layout, which was created by the Children after a 2-Day Workshop was launched on 05 January 2014.
This Project was Sponsored by Mr Muktar Haji Anver, Chairman, Clifftex Industries (Pvt) Ltd. Mr Muktar Haji Anver graced this occasion as Chief Guest. Also, the staff of the Cliftex Industries (Pvt) Ltd , participated at the event.
CUP Officials Harsha Gomes, Vice President, Nadee Dissanayake, Secretary, Nishantha Perera, Assistant Treasurer, and the Member, Damayanthi Perera also present at the event.